GFTT provides high impact and low cost Blended Learning Training Solutions for Global Finance Professionals. Our Blended Learning Program leverages technology through e-Learning to provide a comprehensive learning experience.
Blended learning is a technique that seamlessly integrates and delivers the advantages of traditional, instructor-led learning and the convenience of web based training.
It addresses the notion that all people do not learn information in the same way. With the advances in technology, technical learning methods can now be added to the mix of choices available to the instructor and the student. Blended learning takes advantage of the power of technology to deliver training "just in time," anywhere and anytime.
Our global perspective and over two decades of experience in training & consulting services to finance executives & leading corporate houses worldwide, formed the basis of the development of our e-learning chapter, KESDEE. Alongwith Instructor-led-training and our own expertise in e-learning (KESDEE's e-learning course library), GFTT's Blended Learning Program serves as "an integrated & wholesome learning".
At GFTT, our Blended Learning Program follows the following simple approach.

1. Instructor-led program introduction (through pre-course survey, material & activities)
2. Instructor-led seminar (In-house training)
3. Post-training support (through access to KESDEE's e-learning courseware)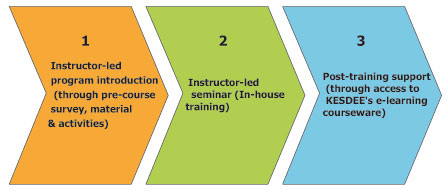 ©2010 GFTT Inc. All rights reserved. Terms of use / Privacy Statement